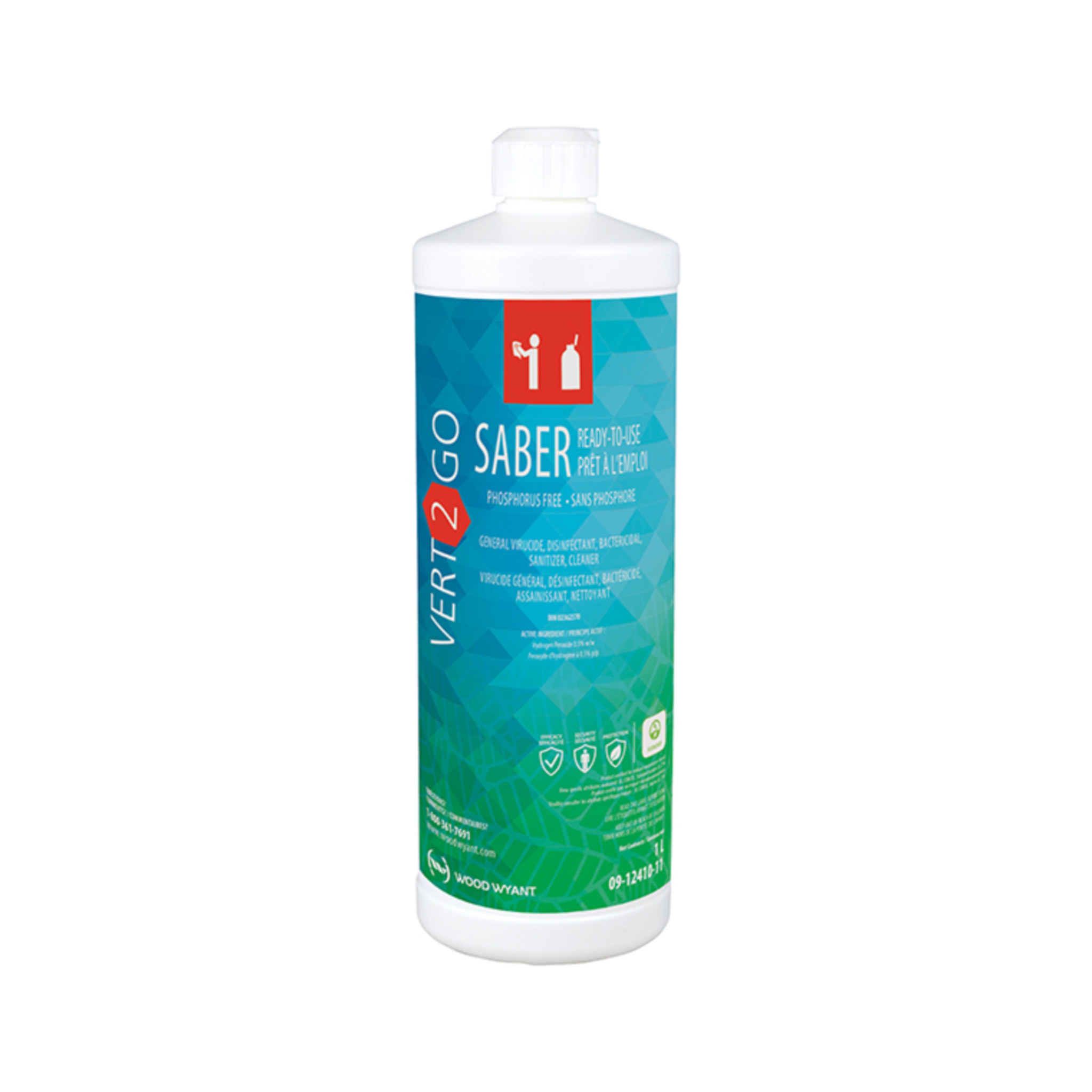 Saber Vert2Go RTU Hard Surface Disinfectant
This VERT2GO SABER is a ready-to-use powerful disinfectant cleaner that kills non-enveloped viruses (norovirus, influenza, MRSA, VRE, etc.) in just 5 minutes.  Its hydrogen peroxide formula sanitizes in 30 seconds.  It also makes a great window and bathroom  cleaner cleaner.  An all-in-one product  - cleaner, disinfectant, sanitizer & bactericide - that is ready to use and: 
EcoLogo certified
Phosphorus Free
Odour Free  
This is a "Hard Surface" Disinfectant and should not be used on Vinyl, Leather, Suede, Naugahyde, etc.
Works well with our Trigger Sprayer:
https://massagemercantile.com/collections/tables-chairs-accessories/products/trigger-sprayer 
DIN #02362570 this product meets the Gov't of Canada List of Approved Hard-Surface Disinfectants for COVID-19.
1 Litre 
Available:
Individually $13.50
Six Pack      $75.00 
Twelve Pack $145.00
Active Ingredient:  Hydrogen Peroxide 0.5% w/w
Made in Canada by Sani Marc for Wood Wyant
READ THE LABEL BEFORE USING
Use:  Apply solution to room temperature surface, allow to remain wet for 30 seconds.  Wipe dry.  No rinsing is required.  Always test compatibility of product with surface in a non visible area. 
ALWAYS TEST COMPATIBILITY OF PRODUCT WITH SURFACE IN A NON VISIBLE AREA. 
Looking for MSDS (Material Safety Data Sheet) on this product?  Simply message us and we'll forward it along.